About the Pub
The Brick Layers Arms (
32 Waterman Street, Putney, SW15 1DD
) is a small, quiet, family owned free house slightly off the main high street. It's best described as unpretentious. Being a free-house, it's not tied to any local brewery and is able to sell a range of beers from around the country - including the award winning Timothy Taylor Landlords. It has recently won
CAMRA Greater London Pub of the Year 2009
, a reward which it richly deserves.
Here is a quick review of the pub
by a friend
of Putney Munch, and here is another review on
FancyAPint
?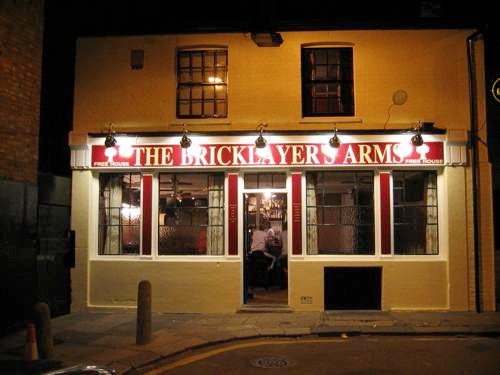 PLEASE NOTE: The pub does not take plastic. Cash only at the bar. There are however, plenty of cash points on Putney High Street, a 5 minutes walk away.
How to spot us
We will be the group at the back of the pub, down the left hand side of the bar. We used to be behind a half curtain, but long since ended up taking over most of the pub! Hopefully, You won't be able to miss us as the rest of the pub is likely to be very quiet, however if you can't spot us (We'll generally be the group of people wearing name badges -- if we remembered to bring them!), then ask the bar staff to point out the Putney Munch. They know who we are. Anyone wearing a name badge will be at the munch, any one who isn't will be a local.
What if you can't spot us?
Walk to the back of the pub on the left hand side, and look lost. We'll spot you.
One more thing...
The pub is the home pub for the local Fulham Football Club, and on occasion, Fulham may be playing at home on the same night as the munch. On such nights, the pub will be full with footballers until around 7.30pm, when luckily they will mostly disappear and go the match. We will try to post on twitter when this is the case.